Latest Issue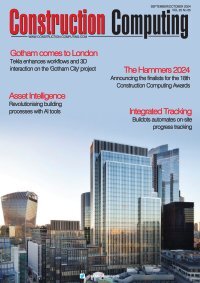 Comment
Getting back to Normal - but what's the New Normal?
One of the best things about the easing of lockdown is being free to talk about things other than Coronavirus issues, and how we are going to modify our working habits to prevent the second phase descending on us this autumn. The industry hasn't stood still, and besides learning how to work from home more efficiently and maintain proper social distancing while we work, there have been some interesting technical innovations - demonstrated by articles in this newsletter - of 3D laser scanning of structures for construction management or improved accuracy in surveying for rectifying structural wear and tear.

The first example is from NavViz which has introduced a wearable 3D scanner which vastly speeds up the acquisition of 3D point clouds within complex environments, and the second is a case study from Tekla whose client has used standard 3D laser scanners to produce a highly accurate 3D modelof sections of a roller coaster track at Blackpool's Pleasure Beach which had been worn down by many years of use. Creating the new sections and fitting them, with millimetre accuracy, resulted in a better and smoother ride than they had when it was launched.

But even here there are caveats! It's not just the working practices that will change. The fear of transmission has been released and any event that appears to heighten the spread of the coronavirus will be affected – and that includes the aerosol effect of a roller coaster carload of screaming holidaymakers! Having upgraded the ride, will it now be mothballed for a couple of years till we learn to live with the virus?

That probably goes for many public events where emotion overcomes prudence – football matches, concerts, gigs, and so on – and whilst many people will ignore the issue, there will still be a large part of the population who will remain cautious – and construction projects for such venues will have to take steps to accommodate attendee segregation if, in future, that is required.
David Chadwick
To make sure you get your copy of the Newsletter emailed to you personally, every time, click here to register.