Latest Issue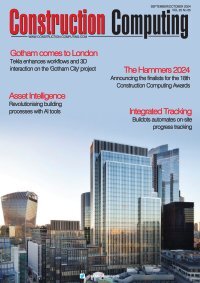 Comment
Some Things to Celebrate
It's been a difficult year, you might say, but there have been positives as well – particularly in the construction industry where software developers have been proactive in helping their customers adapt to working from home or in reconfiguring office space, rerouting pedestrian traffic and establishing social distancing in town centres - like Oasys MassMotion and ArcGis,featured in this newsletter. There have also been some notable software releases. Of particular interest is Graphisoft's Archicad 24, which redefines the way architects and engineers should work together –on a shared model, rather than federating models developed using separate applications - released during the company's recent on-line conference, Building Together.

Thereby hangs another major positive – the growth of on-line meetings, conferences, press launches and training. With the technology we have now it was always a phenomenon waiting to happen, and the downside of not being able to establish and maintain personal contacts is outweighed by the reduction inthe economic and environmental costs incurred flying large groups of people all over the worldfor a 2 or 3 day conference.

Even our Construction Computing Awards have been hit, and we are also having to run the 14th Hammers on-line. Looking at the positives of that, though, should encourage more people to get involved in choosing the software and companies that they think have made the most positive contribution to the industry this year. We are also judging significant projects within the industry using BIM and other technologies–it's always stimulating to hear about notable achievements within the industry.

So, do something positive yourself, and check out the final list of nominees for The Hammers 2020 and make your mark!
David Chadwick
To make sure you get your copy of the Newsletter emailed to you personally, every time, click here to register.