On the right track

Bentley's digital twin technology provides a model for the next generation of the country's rail infrastructure. Good enough for the next 150 years?
£2bn green energy blackout bill for UK

The Global Warming Policy Foundation (GWPF) has published a collection of papers by energy expert Dr John Constable, documenting the rapid decay of the UK...
Active hearing protection mandate

Galliford Try's Highways business has implemented a new mandate requiring all of its sites to adopt Active Hearing Protection from July.
Support for County Contractors

County Contractors is a leading refurbishment specialist, specialising in large scale, high profile projects for over 40 years.
MAGNET construct v4 on Android and iOS

Now running on smartphones, MAGNET Construct is field software that directly communicates with survey hardware providing a full data...
Quality assured

Case Study

|

September 2020

Using Solibri to fine-tune BIM models ultimately helped improve the passenger experience at Copenhagen Airport
Merdeka 118

The creative capabilities of Archicad were used throughout the design and construction of Malaysia's tallest building, Merdeka 118, scheduled for completion in 2024
Positive Energy Block

Case Study

|

September 2020

As part of the pioneering EU Horizon 2020 funded +CityxChange (Positive City Exchange) project, IES have been using their ICL digital twin...
A license to design

Technology Focus

|

September 2020

Software subscriptions are growing in popularity as they meet the needs of both software developers and their customers, according to...
A CDE shared

Technology Focus

|

September 2020

A map of pavement widths helps local authorities with social distancing plans
Latest Issue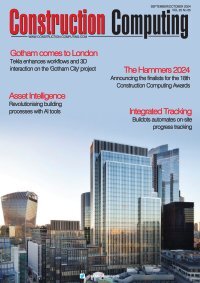 Comment
Transforming Infrastructure
I wonder how long it took the country to build the incredible network of railways we used to have before Dr Beeching wielded his infamous axe. It took well over a century and served the public incredibly well with even routes like the watercress and strawberry lines carrying produce up to London from the Southern counties, and we even had 2 stations in Washford for a couple of years one of which took passengers up the steep incline to the iron ore mines on the edge of Exmoor.

They transformed the lives of our ancestors. We are on the crest of another monumental shift in our infrastructure, and HS2, I believe is just the first part of that, and Covid 19 will be regarded as the catalyst. Our working lives have been disrupted and we have seen the advantages and benefits of technology to loosen our ties to big cities and spread our selves out into the regions. The losers will be the many businesses that supported the influx of commuters into expensive and crowded office blocks after long and arduous daily hikes, but the winners will be the Northern hubs of a railway system that links London to local, short distance, aerial vehicles, a revitalized Northern regional rail network, and the real growth of integrated communities in, hitherto, neglected Midlands and Northern towns.

I also wonder how many demonstrations were raised to fight the demise of the horse and carriage industry, and whether the enormous cost of building the old railway network (amortised over its lifetime) was ever discussed with the public. Steve Cottrell discusses the project in our feature article.
David Chadwick
To make sure you get your copy of the Newsletter emailed to you personally, every time, click here to register.