Construction Computing Awards The Hammers 2020

We are pleased to announce that voting for the 2020 Construction Computing Awards is now open.
Epson SureColor SC-T2100

Epson's new wireless A1 printer provides a perfect solution for architects and engineers who work in a small office, from home, or on-site, writes David Chadwick
Design and construction teams benefit from more effective collaboration using AutoCAD with PlanGrid

Autodesk Construction Cloud combines next-generation technology, a robust network of professionals and firms, and powerful predictive analytics to help businesses...
A team effort

Case Study

|

October 2020

''I was actually looking for a contact database,'' said Toby Adam of Gaunt Francis Architects (GFA). Instead GFA ended up implementing Atvero's information...
Material benefits

Software Review

|

October 2020

Adding Materials to the Vectorworks 2021 Resource Library provides Vectorworks users with an unlimited range of possibilities, writes David Chadwick
Remote site viewing

Software Review

|

October 2020

High-tech is employed to assist a low-tech function as Oculo provides immersive off-site construction project viewing
County views

Carol Massay, CEO of EasyBuild, considers the views of two local construction industry organisations in Hertfordshire on the impact of Covid-19, planning processes and...
Creating 'net zero homes' in derby

The University of Derby is joining local partners from across Derbyshire to spearhead the 'green recovery' by making homes in the county more energy efficient.
Getting more from geotechnical data

OpenGround Cloud is a new cloud service that enables geotechnical professionals to access reliable geotechnical data for better engineering decision support and...
Latest Issue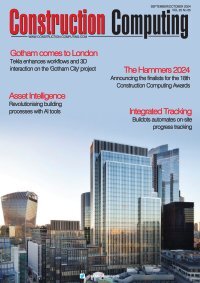 Comment
Why do we need Awards?
Autumn appears to be the most favourable time of the year for business Awards, giving you the chance to honour the companies who have impressed you the most over the last year or so. I looked outside the window at the rain pouring down and then thought about the year from Hell we have been going through and wondered why we bother (No, that's rhetoric, I am actually a very optimistic person).

I used to write regularly about the manufacturing industry. If you build a fabulous motor car you get your recognition and reward from the millions of people who will buy it and it will generate its own publicity. In the construction industry, every project is unique, every bit of software is invisible except to the people who design buildings with it, every new road or rail scheme is just a few minutes saved for the average motorist or passenger who know nothing of the skills involved in putting it all together.

We like to tell people about our achievements, and we need to know about what works and what doesn't, who is making waves, and what developments in the industry are setting the grades, but we don't all have access to the PR company that the Beckham clan uses. The Awards system, therefore, is the simplest and heart-warming way of informing the industry about its successes. What could be pleasanter than sitting there in various degrees of isolation and drinking your cocoa to get the chill out of your bones, and thinking about the positive things that have been happening in the industry this year – and then recording your votes in the 15th outing for The Hammers!
David Chadwick
To make sure you get your copy of the Newsletter emailed to you personally, every time, click here to register.