Showing off

Marionette gives Origin Studios an extra tweak to Vectorworks for their designs for museum exhibitions
PhysioWizard

Musculoskeletal problems are perhaps the single biggest cause for construction employees to take sick days off work. Now, PhysioWizard provides a certified and thorough...
Enscape integrates Vectorworks 2021

The newly released Enscape 2.9 supports Vectorworks 2021, allowing architects, landscape design professionals and entertainment designers to add Enscape...
SafetiBase boosts site safety on Hs2

HS2 Ltd has joined forces with main works contractor Balfour Beatty VINCI (BBV) and 3D Repo to boost worksite safety. By harnessing the power of cloud-based...
Shaderlight for sketchup 2o21

Shaderlight Ltd, the developers of Shaderlight for SketchUp, the popular rendering plugin for Trimble SketchUp, have announced the release of Shaderlight 2021.
RedSky software enables John F Hunt to power through the pandemic

Accounting Feature

|

January 2021

We asked Ian Saville, Finance Director at John F Hunt, for his views on the HMRC's VAT domestic reverse charge and how RedSky's construction management...
Accounting for testing times

Accounting Feature

|

January 2021

Carol Massay, CEO of EasyBuild, explains how an ERP based accounting solution can help construction businesses manage a year of unprecedented challenges
Weatherproof infrastructure

Case Study

|

January 2021

The largest dike in the Netherlands has been reinforced with BIM
Digitally Twinned design

Case Study

|

January 2021

Graphisoft's Archicad enabled brp architects to create a virtual building to refine their forward-thinking design for a contemporary home in the middle of Market Harborough
The D-Day Story

Case Study

|

January 2021

Hillcrest Structural employed Tekla Structures' 3D model environment to help design, detail, fabricate and display a unique piece of D-Day history
Augmented Reality on-site

Technology Focus

|

January 2020

Topcon's MAGNET Vison brings a whole new reality to laying out project markers on a building site, writes David Chadwick
Accounting In Construction Guide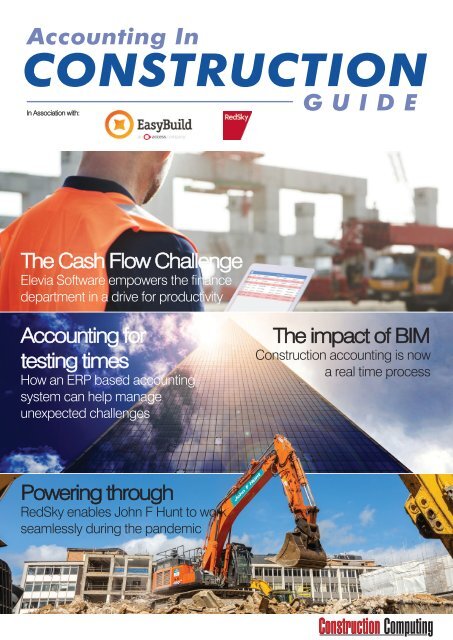 Comment
MSI injuries are a pain in the neck
Now that a deal has been signed with the EU it is to be hoped that the next couple of years will be spent sorting out what works and what doesn't and working to become partners with the Common Market rather than opponents. Amongst the many things that we have learned from the pandemic, as well, is that for every strong opinion being held about the way we should have been handllng it, there is an equally valid opposite opinion. The human impact of both of these events cannot be trivialized - the COVID19 global pandemic considerably more drastic than Brexit - but the lives of everybody in the country have been dramatically affected.

As we rebuild our economy, and reshape our infrastructure to address a future full of opportunities as well as challenges, it is to be hoped that the concern we are having to show our fellow citizens will be part of the process of regeneration and that the health and wellbeing of workers is as much of value as their productivity. That is why it is not such a co-incidence that we have featured PhysioWizard in this newsletter whereas we have previously had articles from Bentley and Mass Motion that dealt with the creation of socially distanced office space.

The shift towards Working from Home is, perhaps, a future demographic that has been dragged forward a decade or so by the pandemic, but it doesn't affect the construction industries primary workforce. Working on a building site has its own hazards, and whilst industrial accidents may be more common in this industry than in others, lower level strains and injuries are more common because of the nature of the work, and probably cause more days to be lost with subsequent disruption to the project's cost and schedule. PhysioWizard gives project managers a tool for diagnosing, reporting and subsequently treating what are commonly known as Musculoskeletal injuries.


David Chadwick
To make sure you get your copy of the Newsletter emailed to you personally, every time, click here to register.